May 11, 2020
With all the staying-at-home recently, I've had time to reflect on my travels the past three years with our History on Wheels traveling exhibit. History on Wheels is a custom trailer with nearly 1,000 square feet of exhibit space. We travel to festivals, fairs, schools and other special events to share Indiana's rich automotive heritage through our current exhibit, Auto Indiana.
I'm sure most of us have attended a fair at some point in our lives, but what about the many local festivals? Until I became the coordinator for History on Wheels, I had no idea how many unique festivals are held every year across our state. As diverse as these festivals are, I've come to realize a common thread that I'll come back to at the end of my blog. I'll highlight a just few of the great festivals we've been a part of.
In July of 2017 History on Wheels was invited to Frankfort Hot Dog Days. It's not a stretch to associate the word Frankfort with hot dog, so why not take advantage of it? The Frankfort High School mascot is a hot dog, too! Visitors on board our exhibit made sure to let me know of the best restaurants to frequent while in town. Many shared stories of the local architecture and history of the buildings that make up the beautiful City of Frankfort. They have a stunning courthouse! I have also never witnessed so many "wiener dogs" in one place walking with their owners all over town. I've come to conclude that it must be a requirement to have a dachshund if you want to live in Frankfort.
In September of 2018 we were invited to the Atlanta New Earth Festival. We pulled into town, population 800, the day before the festival to the sounds of country music blaring from someone's garage and I spotted a dog sleeping in the middle of main street. When I arrived the next day, the town had swelled to thousands – THOUSANDS! I had to park in a farmer's field about a mile away and walk into town. It was like a giant flea market with musical entertainment. The festival organizer brought me plates of food every day. She said that just because I was out of town it didn't mean that I couldn't have home cooked meals. I learned later that she opens her home to local residents and has a giant potluck all weekend long. I will never forget her kindness.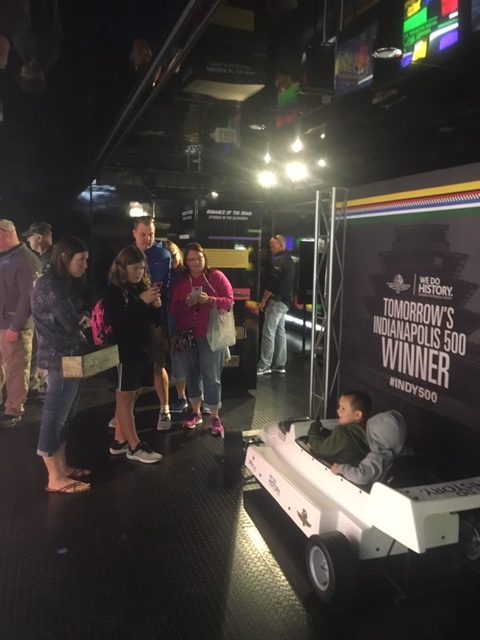 Apple Dumplings anyone? In 2019 I found myself in Connersville for Apple Dumpling Days. This was a return visit since we were at this festival celebrating apple dumplings in 2017. It seems that Hoosiers will find any reason to throw a party! Connersville went all out. The local historical society brought one of their antique cars, the Cord automobile, which was manufactured in Connersville, and parked it next to our exhibit. A volunteer came every day and staffed it. I was also invited to a private viewing of their museum after hours.
I'm sure by now you've figured out the common thread. Hoosier Hospitality. As diverse as these festivals are, the one thing they all have in common is how friendly, warm and welcoming the people of Indiana are. Hoosier Hospitality is not just a catch phrase, it is a reality. I look forward to hitting the road again in 2020 and I'm sure I'll have many more stories to share. Once the pandemic restrictions are lessened, I hope you'll get out there and enjoy a local festival (with proper safety precautions of course). With any luck History on Wheels will be a part of it!