December 20, 2021
It seems an appropriate time to revisit a past blog theme, 'My Favorite Things,' featuring a slightly subjective look at one of the Indiana Historical Society's collection acquisitions holding some significance from a curatorial perspective. There are numerous prospective examples from which I could cull interesting stories, but a visual gift from several years past comes to mind particularly.
Indiana may not be generally considered the apex of resources pertaining to the late President Richard M. Nixon. However, the "M" in his name – Milhous – perhaps makes some difference, in this case. Since late 2013, the Indiana Historical Society has been home to a potentially untapped gem for understanding and interpreting more about the Hoosier roots, origins and relatives of the 38th chief executive. A California cousin of Nixon's was responsible for reaching out to IHS about some glass plate negatives and photographs produced by an ancestor and former Seymour resident, Charles Wright Milhous, who happened to be the maternal great uncle of Nixon.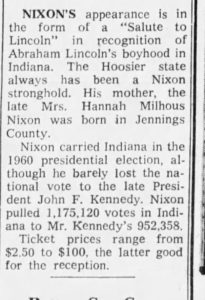 The contact piqued my interest, as there had been so little in the IHS collection pertaining to this family and subject content, and it also highlighted a part of the state – Jennings, Jackson and Scott counties – lacking visual documentation of this kind. As Nixon's mother, Hannah Milhous Nixon, had been born near Butlerville in Jennings County in 1885 and lived there on the family farm during her formative years, the politician often referenced his mother's Indiana roots. While on the pre-presidential campaign trail in 1968, Nixon made a stop near his late mother's native area to deliver a fundraising speech while also recognizing Abraham Lincoln's connection to the state. Hannah left the beloved family farm around 1897 when the family relocated to California, joining several other relatives there. Thanks to her uncle's visual journey, it has helped open a door to some subtle discoveries about the Milhous family's Hoosier past.
Mr. Milhous was not an especially outstanding photographer, or a famous person himself, but a man of varied interests and talents. For several years, he operated a drugstore in Seymour and also remained somewhat attached to his rural roots. His photos represent simplicity of style and an exploration with a casual focus on subjects familiar to him and likely close to his heart – family and friends, domestic scenes, farm life, and more, represented predominantly through both interior and exterior views.
Among a sampling of the images captured by Milhous, and those shared in this blog, are: a landscape view of the farm and property of Franklin Milhous, Nixon's grandfather, where Hannah had lived; Charles Wright Milhous and his family sitting around the heating stove in their home; a casual view of Elizabeth Price Griffith Milhous (Nixon's great-grandmother) with Milhous and his wife, Rose McClure Milhous, sharing a game activity in the parlor; a group of unidentified Milhous relatives and friends outside of the "Old House" in Seymour, Indiana; three women, likely relatives, posed in Seymour with the Milhous family's "New House" visible as a backdrop; a Christmas tree at the family's "Old House"; Elizabeth Price Griffith Milhous with an elderly relative, likely a sister, in Charles' "New House" parlor; and Ola Glen McClure, sister-in-law of Milhous, sharing hijinks and a meal on a Scott County farm with her cat and dog. The latter photo is a favorite of mine and has been used in many IHS online resources, including publicity materials and social media posts.
On periodic visits he made westward to visit family members, Charles Wright Milhous also captured images of people, cars, structures, and rural activities in southern California. These experiences may have inspired him. Before long, Milhous himself also heard the call to migrate to a warmer climate, joining other relatives there in 1912, when Charles and his immediate family reached the Whittier area, where many Quakers had relocated. That migration explains how the Indiana images fell into the hands of the 21st century California descendant and donor who transferred the glass plate negatives into the care of IHS.
Remarkably, the family also had original manuscripts pertaining to Jessamyn West's writing of the Indiana-based classic, The Friendly Persuasion. Included was historical documentation of ancestors who provided the inspiration for the Civil War-themed bestseller. West was a second cousin of Nixon's, and the papers had been entrusted to a number of relatives who carefully weighed their responsibility for the material and its longtime preservation, access and care. While Indiana was given due consideration, it is believed those papers were likely incorporated into the major body of West's work housed at Whittier College, her alma mater. It had been my ardent desire to be able to facilitate a second acquisition from this thoughtful west coast branch of the Milhous family. In some ways, I often think of that prospect as "the one that got away," though I'm pleased that the family was so thoughtful in its responsibility toward West's legacy.
You cannot ask for more.