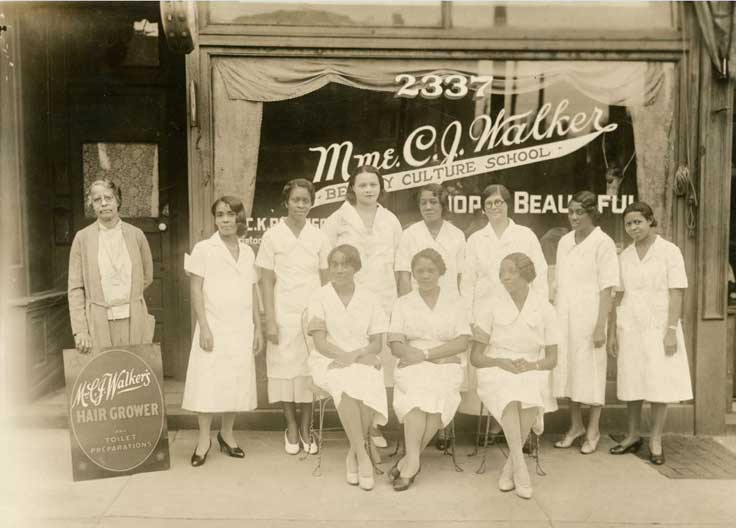 Curious about the business of beauty culture, the latest in hair care technology, and the people who were trained in Walker Beauty Culture methods in the middle part of the 20th century?
We are pleased to announce that we processed an addition to the Madam C.J. Walker Papers. This collection addition fills in the gaps of the original Walker collection. It mostly follows the development of the Walker empire after she passed away and R.L. Brokenburr, and later F.B. and Willard Ransom, were in charge of operations, although there is some early business correspondence from Madam Walker herself.
The collection is more than 110 boxes of manuscript material, as well as photographs and some product artifacts. We began processing under the direction of Wilma Moore, former archivist, African-American history. Staff and volunteers who finished processing this collection after Wilma's retirement are happy to have this rich collection available to the public as a testament to Wilma's legacy at IHS. The collection addition enhances our patrons' understanding of the business side of the Walker operations, from the programs put in place for Walker agents and jobbers to international sales to the other businesses that made up the Walker empire: a drug store, restaurant, casino, realty company and theater. Patrons will also be able to gain a better understanding of the women and men who trained at the Walker beauty colleges in Chicago, Dallas, Indianapolis, Kansas City, Knoxville and Washington, D.C., as the collection contains student enrollment, correspondence, diplomas and yearbooks.
Find the record for the Madam C.J. Walker Collection Addition in our library catalog.