October 1, 2019
According to the Reid Duffy Menu Collection, fine dining in Indianapolis in the 1980s and 1990s can be summed up by five words: steak, steak and more steak.
The WRTV reporter hosted a weekly restaurant review segment called "Duffy's Diner" from 1978 to 1995. Any local eatery was eligible, which is why Duffy's menus, donated to IHS in 2004, include anything and everything from the short-lived Rabbit Patch fast food chain (yes, it featured fried rabbit) to Mark Pi's to Acapulco Joe's.
While the casual options show a modicum of variety, the fancy food scene was still wearing a straightjacket made primarily from filet mignon and sole meunière. All the places you would take your date to impress them leaned on the expensive cuts of meat and heavy sauces prized by traditional French cuisine. At least "ladies' menus," which included descriptions but no prices (because how dare a lady have to think about money!), had finally gone out of style.
Duffy's collection doesn't feature the legendary King Cole or La Tour restaurants, but it does include plenty of penthouse hotel establishments such as The Eagle's Nest, Harrison's and Seasons. Each had its own attractions, such as the revolving 360-degree view from The Eagle's Nest, or the live miniature ducks at the Embassy Suites restaurant, but the menus had quite a lot in common. Seasons' menu touts its authentic French chef, and four of the seven entrées feature beef in sauce. At Harrison's, the first five entrées are some form of steak, which can be had with lemon butter, cream sauce or Béarnaise. Even The Eagle's Nest's lunch menu ("luncheon," to be exact) includes a London broil alongside its turkey sandwiches.
Where was the nouvelle cuisine – fresh, local ingredients prepared in inventive new ways – that is so common today? The movement's seeds began to sprout in Paris in the 1960s and jumped the pond to New York shortly before 1980. Why, then, did it take 20 more years to find its way here?
Perhaps the character of downtown Indianapolis can provide an explanation. Hotels dominated fine dining here in part due to a ready supply of guests that could offset the daily, post-5:30 emptying of downtown that occurred in the 1980s and early 1990s. Subsequently, the area's mid-1990s reinvention as a leisure center happened not because of a shift in dining establishments, but because of Circle Center Mall. And with the shiny new mall came plenty of shiny new chain restaurants: California Pizza Kitchen! Hard Rock Cafe! P. F. Chang's! More of us than we'd like to admit believed we'd made it as a city when we finally got our own Planet Hollywood in 1997. Reid Duffy appears to have avoided most such places, but his collection still contains a surprising number of chain restaurant menus from the era, including Max and Irma's and O'Charley's.
Despite the opening of Peter's in 1986, nary a hint of nouvelle influence appears in Duffy's menus until the arrival of sister restaurants Snax and Something Different in 1998. Aside from Something Different's "Oriental" salad dressing and use of veal, the menus look like a time warp from 10 or 20 years later. Lobster nachos? Stilton walnut tart with onion marmalade? Chilled asparagus soup with toasted hazelnuts and crème fraîche? Each one sounds more 2018 than 1998, at least for Indianapolis.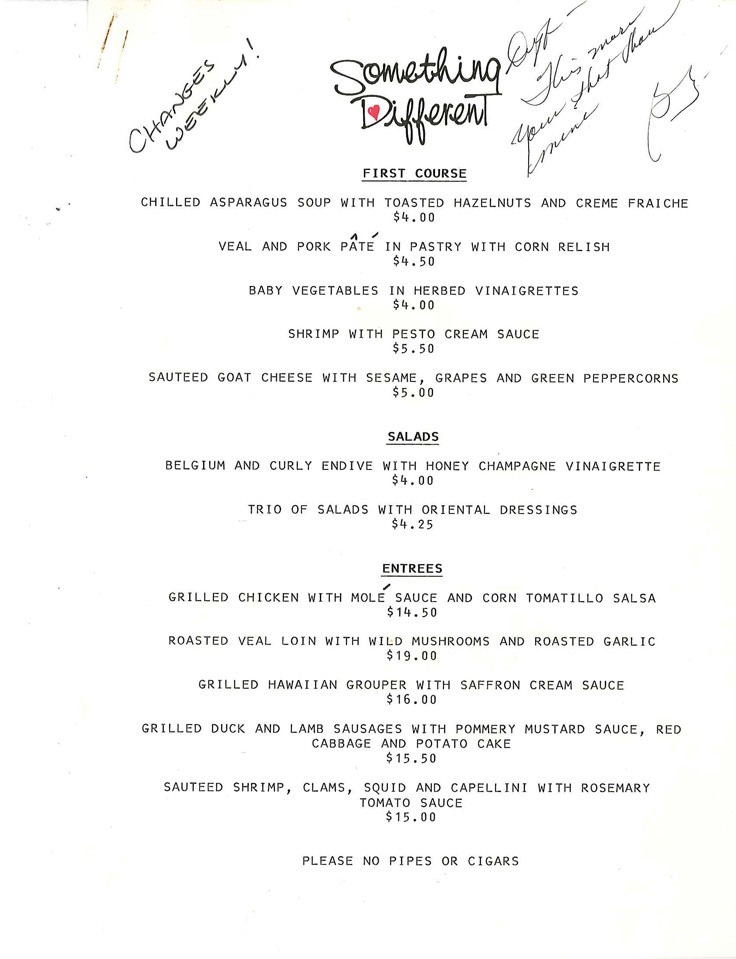 The trickle of new, experimental restaurants continued into the 2000s with places like Tavola di Tosa (2000), R Bistro (2001) and L'Explorateur (2006, known for its Pop Rocks-encrusted scallops). None of these pioneers remains on the scene today, but their influence paved the way for a veritable flood in the 2010s: Bluebeard, Black Market, Tinker Street, Milktooth, Libertine, Bar 114, etc., etc., etc. One wonders what Duffy would make of them. Gone for the most part are the white tablecloths, dress codes and Escoffier dishes. Today's restaurant status symbols, for better or worse, are foraged ramps and locally grown rhubarb.
I'd say "Bon appétit," but that would be a bit dated, wouldn't it?
Feature image – Reid Duffy (Bass Photo Co. Collection, IHS)