April 5, 2017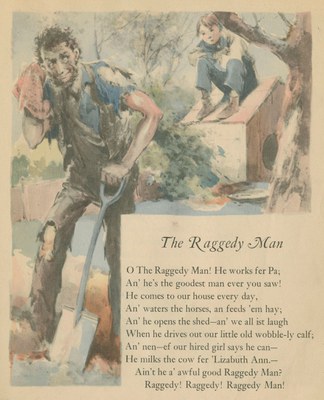 Indiana has produced many talented authors throughout the years. Famous examples include George Ade, Theodore Dreiser, Meredith Nicholson, Gene Stratton-Porter, Booth Tarkington, Kurt Vonnegut and Lew Wallace. No list is complete, however, unless it includes James Whitcomb Riley, also known as the "Hoosier Poet" and the "Children's Poet."
Riley was famous for using dialect verse, which employs language from a certain region, culture, or class and makes special use of vocabulary, spelling, grammar, and punctuation. His poetry was extremely popular with children, as it was both entertaining and easy to read. The IHS library is lucky to hold many of James Whitcomb Riley's works, including those written for younger audiences.
I recently cataloged a copy of Poems of Childhood, published in 1943 and wonderfully illustrated by Everett Shinn. It includes such classics as "Little Orphant Annie," "The Raggedy Man," "The Bumblebee," "The Old Swimmin' Hole" and "When the Frost is on the Punkin." The book itself is worn and slightly fragile. Its spine is unstable, leaving both the front and back covers loose. The paper is in pretty good shape; however, smudge marks and discoloration are present on most pages. The overall condition of the book tells me it was read often and thoroughly enjoyed by its owner(s). And let's be honest, what children's book wouldn't be worse for wear after almost 75 years?!
This particular copy of Poems of Childhood belonged to Jennie Wray, as you can see from the inscription above. I don't know about you, but this really tugs at my heart strings. It also leaves me with a lot of questions. Who was Jennie Wray? Did the rest of her family survive the fire? How old was she when she bought this book? Is she still living today? I've said it before, and I'll say it again: The journey a book takes can be just as fascinating as the story it tells!
I invite people of all ages to visit the IHS library and view Jennie's copy of Poems of Childhood. If you're interested in exploring other James Whitcomb Riley works, or children's books in general, you can search our library holdingshere.