June 27, 2018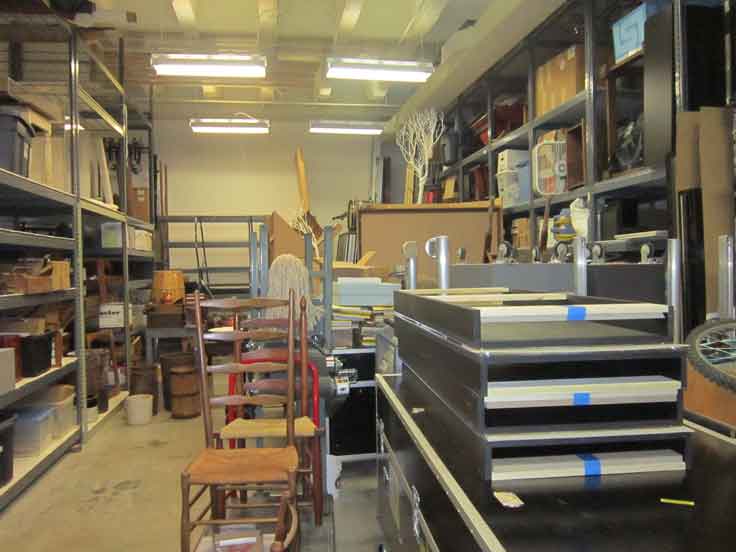 Since all of you seem to enjoy learning about behind-the-scenes life at museums, I thought I'd share a few fun facts about the Exhibitions Department – things I take for granted but you might not know. Here we go.
1.
We have a LOT of props and furniture from old exhibits. In fact, we have a whole room of items. We even recently cleaned out some objects, and the room is still filled to the brim. Since we buy our objects from antique malls, eBay, Craigslist, etc., we are not beholden to normal collections procedures. Meaning, sometimes we sell items back, and people get to touch these objects. Plus, we save a lot of money by reusing as much as possible. I like to go in our storage room and explore from time to time. Lots of strange stuff in there.
2.
We have a whole fabrication shop! Jesse, our exhibits fabricator, is a jack-of-all-trades. There's no problem he can't solve, and this fabrication shop is where all of the magic happens. Having a fabricator on staff allows us to direct every aspect of the fabrication process. There's a lot of creative problem-solving, as well as some fun brainstorming that occurs in our department. Then Jesse just walks down the hallway to his shop and makes it a reality.
3.
We can print much of our work in-house. We have a huge plotter printer that allows us to design and print many of the elements found in our exhibits. We often print on this cool, versatile type of paper called Photo Tex. It's basically like a big sticker for the wall but made of fabric. We use Photo Tex in almost all of our exhibits. My favorite use to date: we recently used it as wallpaper for the Beem parlor in You Are There 1863: Letter Home from Gettysburg.
4.
We have a whole museum theater department. Our Museum Theater (MT) department teams with talented people boasting a variety of backgrounds that somehow lead them all here. From former educators to college students to actors, the MT folks bring a wide array of skills and passions to the table. They can most often be spotted bringing a cast of characters to life in one of our You Are There exhibits, though you'll find them working in various elements of the Indiana Experience throughout the building.
5.
We don't do this alone. At all. We get to work with a ton of local craftsman, community group members, historians, museum colleagues and many more, to make our exhibits come to life.
I especially want to highlight the fact that we get to directly work with every single department at the Indiana Historical Society. Every single person I've worked with has been a great help and encouragement, but here are a few unsung heroes. Susan Sutton and Nadia Kousari are champions of our digital images, and my department has asked a lot of them over the years. David Turk and his crew have digitized anything we've ever used for exhibits. They are remarkable coworkers. Luke Smith and Andrew Fall, IT experts/magicians, have engineered some amazing tech components for our exhibits, while still keeping IHS's technological infrastructure aloft. Both are creative and kind. Nicea Yamber, accountant extraordinaire, gets our billing in order, and never judges us for all of our weird exhibit-related purchases. Ray Boomhower, Kathy Breen and Teresa Baer in the Press have provided me loads of research help, and have seen exhibit text in its infancy when it had no business seeing the light of day. Conservation gurus Ramona Duncan-Huse, Kathy Lechuga and Stephanie Gowler have saved us more than once in my department. Watching them figure out how to best care for and showcase artifacts has been a treat. There are so many more people I wish I had space to thank, but Kim Easton and Chelsea Sutton – our resident word wizards and two remarkable women – want me to keep this short.
Well, that's five. I hope you've enjoyed this quick trip into the wacky world of Exhibits.
Editor's Note: Angela will be leaving IHS soon for a new gig, where we know she'll do amazing work and make everyone around her feel good about themselves. Angela, we'll miss you.