September 6, 2022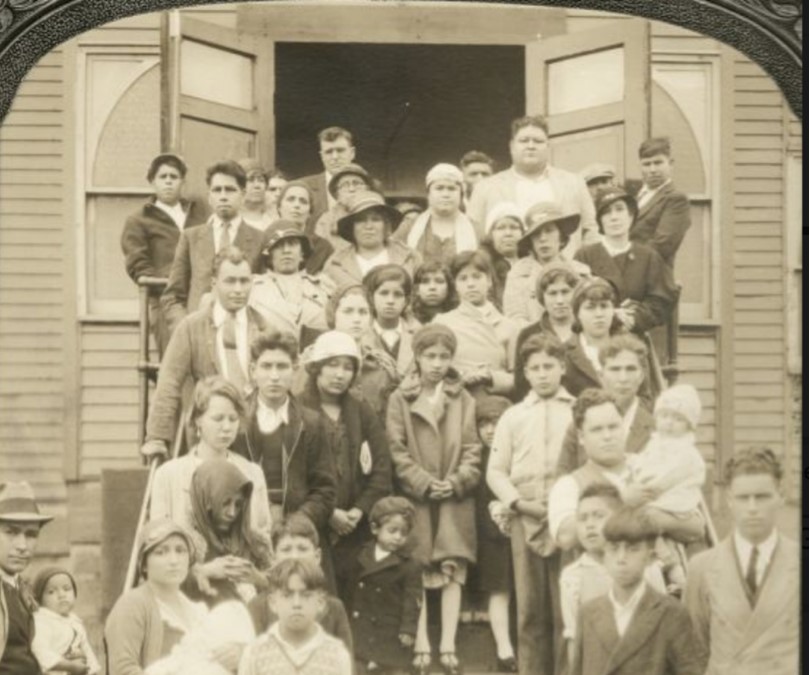 "It was during these hard years of the early 1930s that mass groups of the parishioners departed in whole train loads for Mexico."
Silver Anniversary, Our Lady of Guadalupe Parish, East Chicago, Indiana, 1927-1952
Part One of this blog series laid out how many individuals were repatriated to Mexico by 1932, how it was funded, and how the repatriation program was orchestrated. It gave light to the underlying and systemic conditions for this movement. Indiana saw the removal of over 34% of Northwest Indiana's Mexican Colony between 1930-1932, with departures continuing in later years. This next and final installment addresses their persistence and survival.
Foundation for Survival: Our Lady of Guadalupe Church
The Mexican colony had already laid the foundation for their survival through the founding of Our Lady Guadalupe Church (OLG) in 1926, originally located at 3855 Pennsylvania Avenue in the Block and Pennsy neighborhood. This neighborhood name is short for Block and Pennsylvania Avenues; streets that sandwiched an ethnically diverse neighborhood with a high concentration of the Mexican population. This neighborhood was formed outside of Gate No. 1 of the Inland Steel Company.
For those who remained, survived with the support of OLG's original six missionary catechists and "with the aid of benefactors from Chicago and the City of East Chicago" who "supplied groceries and clothing to needy families." The Catechist also served as translators for Spanish-speaking members of the community.
Witnesses to History: Señoras of Yesteryear, Fred Maravilla, and Rosemarie Gomez
In 1992, a group of women who called themselves the Señoras of Yesteryear compiled firsthand accounts of what it was like to grow up in Indiana Harbor. The Señoras themselves, with their families, were early members of the Mexican colony beginning in the 1910s. They published these community narratives in a book titled, Mexican American Harbor Lights: Pictorial History, touching on the emotion of witnessing train loads of their family, friends and neighbors departing for Mexico. Fast forward to 24 years later, I began to sit down and conduct audio-recorded oral history interviews with a few members of the Old Timers of Indiana Harbor. Just like the Señoras of Yesteryear, these "old timers" were children or young adults at that time of repatriation. The following is a recollection of two individuals who remained with their families during the early years of the repatriation movement.
Frederick "Fred" Maravilla (1918-2021) recalled the large groups of people at the train depot located at Guthrie Street and Michigan Avenue in Indiana Harbor. His father, Ignacio is noted in the photograph below. Fred recalled in detail when his peers, some of who were born in Indiana Harbor, collectively returned to Mexico with their families. Families left behind many personal and household items, such as silk shirts with celluloid collars, of which Fred wore to school. One recollection of note was about his friend Cipriano Hernandez, who did not make it to the train with his family and hid in Lake Michigan. The lake was just a stone's throw away from the depot and this forced his entire family to disembark the train. The Hernandez family never returned to Mexico and were naturally upset at the actions of their son. Fred noted that Cipriano's father would later find work when hiring resumed at area steel mills. Another story he shared was of the Lopez family, compadres of Fred's parents who were from Fred's hometown of Guarachita (Villamar), Michoacan, Mexico. Mrs. Lopez returned with her five children. The father, Mariano (also photographed with Ignacio), would remain in Indiana Harbor. After Mrs. Lopez's return to Mexico, Fred shared that their youngest, a one-year-old, did not survive. Mariano Lopez later sent for his wife and surviving children.
Many families who returned to Mexico were of mixed status; some born in Mexico and others born in the United States. Many repatriates who were born in the United States would return to serve with distinction in World War II. Those without citizenship who remained in Indiana Harbor earned it through their draft or enlistment in the U.S. military, such as Fred.
Rosemarie (Clarkson) Gomez (b. 1926) was born in Saltillo, Coahuila, Mexico, and her husband Jesus (Jesse) Gomez was born in Indiana Harbor in 1920 (d. 1979). Rosemarie recounted her early days growing up in Indiana Harbor and her married life with her husband, Jesse. She noted that he returned to Zacatecas, Mexico with his family during the repatriation. Later, while in Mexico, he and his brothers were drafted for World War II, and Jesse returned to the United States at the age of 22. Due to a heart condition, he was not eligible to serve. After meeting Rosemarie, marrying, and starting a family in Indiana Harbor, he would enter the local political scene in the early 1960s. He won a seat on the East Chicago City Council, the first Mexican American to serve as councilman. He represented the sixth district, mostly Mexican and Puerto Rican. By 1967 he would serve as the East Chicago City Council President. Jesse would be Indiana's first Latino to serve as a president of a city council and the second Latino elected official in Indiana's history. Jesse passed away in 1979 during his term, his wife Rosemarie would finish his term. Jesse Gomez, once a child repatriate turned a Hoosier historical and political first.
To learn more about the history of Indiana's Latino and Hispanic community, visit our Be Heard: Latino Experiences in Indiana online exhibit, click here to view.