October 28, 2019
On Friday, Oct. 18, the History Center was rocked by another historic murder, during this year's Whodunit? event. No fear, our detectives were on the case to put the clues together and solve the 100-year-old Hoosier crime.
New Philadelphia, Indiana, a small hamlet four miles west of Greenfield was rocked by tragedy in the summer of 1921. First, Alonzo Carl died on June 2, seemingly of old age. Alonzo, 85, had recently come to live with his son Frank and daughter-in-law Clara at her farm in Indiana. Local doctor Earnest Sisson called it "mitral insufficiency" and "senile debility," and deemed the death a by-product of old age. His body was quickly sent to his hometown in Hiawatha, Kansas for burial.
Two months later, Frank was also dead from dysentery complicated by cirrhosis of the liver. Called popular in the community, he was known as a lover of dogs (especially terriers) and wrote histories for local residents to buy. He was also known as a drunk, and doctors contributed his death to this habit. Soon, Frank's body was also sent to Hiawatha for burial.
The deluge of letters began to arrive to Hancock County Prosecutor Robert Ging in early October. They suggested that both Frank and Carl did not die of natural causes, but were poisoned by Clara, Frank's wife. Ging began to investigate, exhuming the bodies and sending samples to Indianapolis for testing. Results showed that there was enough arsenic in both bodies to "kill a dozen men."
Clara, a tall, fashionable, well-educated brunette, maintained her innocence. She claimed that her recent purchase of arsenic was for a cat on her farm that kept stealing chickens. No matter, on January 28, 1922, Clara Carl was arrested for the murders. Prosecutor Ging would later call Clara an "arch fiend, a feminine Bluebeard, a guilty wretch, rotten to the core and a murderess."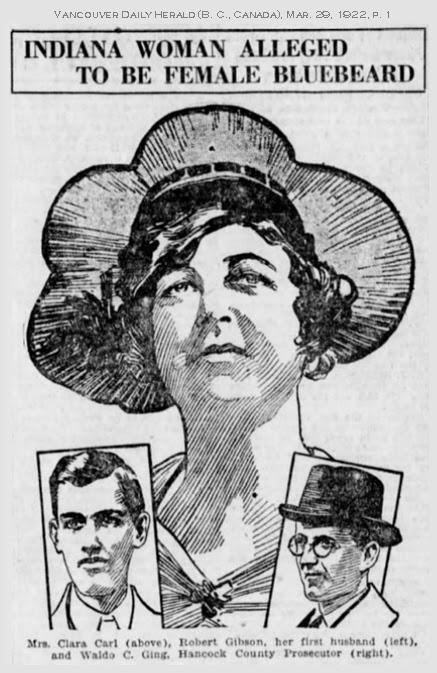 So how did it happen: Clara first moved to New Philadelphia in 1917 with her first husband, Robert Gibson. Childhood sweethearts, they were married in 1908 and then set into business together, collecting local histories and publishing them for local residents to buy. This "get rich quick" scheme seemed to work, and the couple traveled around the Midwest for around 10 years.
While on a trip to Indiana, Clara spotted a small farm for sale near New Philadelphia. She fell in love with a ten-acre fruit and poultry farm and purchased it for $1,500. Just three years later, Robert died of influenza while on a business trip to Missouri. Clara collected a $3,000 life insurance policy, as well as some other property. (Later, after testing, it turned out Clara was also poisoning Robert, but influenza was ruled the ultimate cause of death.)
Five months later, Clara was already in a whirlwind romance with Frank Carl. They are married on September 14, 1920, with Clara believing that Frank was wealthy. When it turned out he was not, Clara filed for divorce. She only dropped the petition when Frank promised to make her sole beneficiary of his $5,000 life insurance policy. Clara first killed Alonzo, believing that Frank would inherit his 500-acre farm in Kansas and make her wealthy. When Frank received no portion of the farm in the will, Clara turned her sites on him.
She was sentenced to life in prison in the Indiana State Women's Prison, after what has been called the O.J. Simpson Trial of the 1920s. The trial went on for months, with local doctors, neighbors and business people all testifying. The trial was so popular that local residents would camp outside the courthouse with their lunches to listen to testimony.
But, Clara's story doesn't end with her indictment. Three years later, she escaped prison over the wall of a chicken coop and led police on a two-day manhunt, before she was recaptured in Columbus, Ohio. Clara was still playing the long game. Over her stay in prison, she was often taken to the hospital for long stays. In 1937, she was paroled by Governor Clifford Townsend due to her failing health. She lived another 30 years.
Looking for more details on the murder? Check out these articles from these 1921 newspaper articles or listen to this episode of Hoosier History Live with Hancock County Historian Brigette Cook Jones. And watch out for our next installment of Whodunit? coming October 2020.